Hello everyone, here are the review to help you for preparing tomorrow's quizz


IF YOU GOT ANY QUESTIONS ASK

The following block is basically the group presentation stuff:
Electrochemistry – Electrolytic Cells Summary
1. Metal plating
2. Electrolysis of brine
3. Electrolysis of molten NaCl
4. Electrolysis of water
Similarities:
• They all need an external electricity source that send electric current through the cell
• They all involve non spontaneous redox reactions
• They all involve decomposition reactions
• They all use electrolytes
• Electrons are pumped through the electrolytic solution by electric pressure
• They all involve the conversion of electrical energy into chemical energy
• The anode is the positive electrode (attached to the positive electrode of the battery) where the anions (negative ions) attach and can be collected
• The cathode is the negative electrode (attached to the negative electrode of the battery) where the cations (positive ions) attach and can be collected
Differences
Metal plating (Electro plating)
Uses and other info
Use of electrolysis to deposit a thin coating of metal on an object
Decorative purposes
Protection from corrosion and from wear
Aerospace, military, automotive, telecommunication and medical industries
Reactions
The object to be coated (spoon) is at the cathode and the metal to be used for coating (silver) is at the anode
Oxidation: Ag => Ag+ + e-
Silver ions (Ag+) move from the anode to the object being plated (cathode) when a direct current is applied
Reduction: Ag+ (aq) + e- => Ag (s) (dissolved metal ions in electrolyte solution are reduced and this allows them to "plate out" onto cathode)
Brine (salty water)

Uses and other info
Effective, cheaper way to produce pure chlorine gas, hydrogen gas. The sodium hydroxide (NaOH) which remains dissolved in solution (Na is very reactive, it's much more likely to exist as an ion than H)
Chlorine is used for water treatments as disinfectant (bleach), production of hydrochloric acid (HCl) and other solvents used in dry cleaning
Hydrogen is used as fuel and to make margarine
Sodium hydroxide is used to make soaps, detergents, paper, rayon and other fibers
Reactions
Overall reaction:
2 NaCl + 2 H2O → Cl2 + H2 + 2 NaOH
Water splits into hydrogen ions (H+) and hydroxide ions (OH-) and sodium chloride splits into sodium ions (Na+) and chlorine ions (Cl-) (see diagram below)
At the cathode hydrogen is produced
2H+ + 2e- => H2
At the anode chlorine is produced
2Cl- - 2e- => Cl2
Molten (melted) NaCl
Uses and other info
The only way to produce pure sodium metal (Na), a very soft, reactive metal that needs to be carefully stored under oil
Very expensive process, NaCl needs to be heated at extremely high temperatures (800 degrees C) in order to be fused to a liquid and its ions be free to move and respond to the electric current
Chlorine gas is only a by-product and this process is not considered important for its production in industry
Reactions
Overall decomposition reaction:
2NaCl => 2Na + Cl2
At the cathode the sodium ion is reduced
Na+ + e- => Na
At the anode the chlorine ion is oxidized
2Cl- - 2e- => Cl2
Water
Uses and other info
Splitting of water into oxygen and hydrogen gas
Not used that much in industry anymore, as it's cheaper to produce hydrogen from fossil fuels and oxygen directly from air
Reactions
Overall reaction
2H2O(l) → 2H2(g) + O2(g)
Cathode (reduction): Hydrogen produced
2H+ + 2e− → H2 (g)
Anode (oxidation): Oxygen produced
2H2O(l) → O2(g) + 4H+ + 4e−
Electrolysis of water
[img]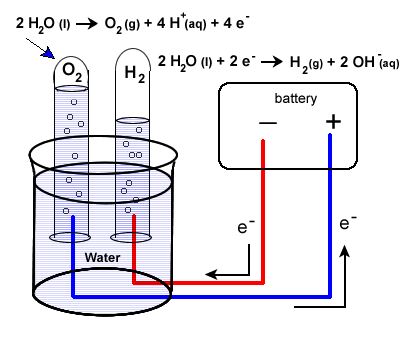 [/img]
Electrolysis of brine
Electrolysis of molten NaCl
Metal Plating
Last edited by Oscar on Mon May 25, 2009 9:41 am; edited 1 time in total
Admin




Posts

: 75


Join date

: 2008-11-27


Age

: 28



And for some other review about electrolysis stuff
Electrochemistry – Student handout
Electrodes – the surface on which oxidation and reduction will occur; help electrons enter or leave the cell; there is a constant flow of electrons between the two electrodes outside the cell
Anode – where oxidation occurs Cathode – where reduction occurs
Electrolyte – the medium for the movement of ions within the cell which carries the ionic current inside the battery; it separates the anode from the cathode inside the battery
Electrochemical cells
A device that uses a redox reaction to either produce or use energy; the transfer of electrons of the redox reactions occurs through a metal wire, generating electric current
They are of two types: Voltaic cells and Electrolytic cells
1. Voltaic (Galvanic) cells = batteries
• Electrons are consumed at the cathode (+) and released at the anode (-)
• Produce electricity as a result of a spontaneous redox that releases energy
• Storage of energy in chemical form; they are like small power plants that convert chemical energy into electrical energy
• Batteries have three parts, an anode (-), a cathode (+), and the electrolyte
• The cathode and anode are hooked up to an electrical circuit.
• The chemical reactions in the battery between the electrolyte and the metal at the anode causes a build up of electrons at the anode which results in an electrical difference between the anode and the cathode
• Electrons want to go to a place with fewer electrons, so they travel through the conductive wire to the cathode where they reduce the other metal (powering the device on the way)
• The electrolyte keeps the electrons from going straight from the anode to the cathode within the battery.
• Reactions products accumulate and gradually slow the cell´s action and reduce its voltage with use
• These electrochemical processes change the chemicals in anode and cathode to make them stop supplying electrons
Battery Do's and Don'ts
http://www.energizer.com/learning-center/battery-care/Pages/dos-and-donts.aspx
Do's
• DO only use the size and type of battery specified in the instructions.
• DO insert the batteries properly. Follow the symbols showing the correct way to position the positive (+) and negative (-) ends of the batteries.
• DO keep battery contact surfaces clean by gently rubbing with a clean pencil eraser or cloth.
• DO preserve battery life by switching off a device and removing the batteries when it is not being used, and is not expected to be used for extended periods of time.
• DO practice proper battery storage by keeping batteries in a cool, dry place at normal room temperature. It is not necessary to store batteries in a refrigerator. Don'ts
• DON'T dispose of batteries in a fire — they may leak or rupture.
• DON'T disassemble, crush, puncture, or otherwise damage batteries. This can result in leakage or rupture.
• DON'T carry loose batteries in a pocket or purse with metal objects like coins, paper clips, etc. This can short-circuit the battery, leading to high heat or leakage.
• DON'T recharge a battery unless it is specifically marked "rechargeable." Attempting to recharge a non-rechargeable (primary) battery could result in leakage or rupture. Don't use rechargeable alkaline batteries in nickel metal hydride battery chargers.
• DON'T store batteries or battery-powered devices in hot places — elevated temperatures can lead to capacity loss, leakage or rupture.
• DON'T mix old and new batteries, or mix different types or makes of batteries. This can cause leakage or rupture, resulting in personal injury or property damage.
• DON'T give batteries to young children.
Batteries come in two basic types: single-use and rechargeable.
Single-use batteries, also known as primary batteries, have one life cycle and must be replaced when drained. Examples include alkaline, carbon-zinc, lithium, silver-zinc and zinc air.
Rechargeable batteries, also known as secondary batteries, can be recharged and used repeatedly. Examples of rechargeable batteries include Nickel Metal Hydride (NiMH), Nickel Cadmium (NiCd), Lithium Ion (LiIon) and Sealed Lead Acid (SLA) batteries.
Rechargeable batteries have discharge "memory", they only charge to what they were charged. When recharging them, the flow of electrons is reversed, and the cathode is supplied back with electrons
Fuel cells – voltaic cells in which a fuel is continuously supplied from an external reservoir, do not run down, they do not pollute
Example: Hydrogen-Oxygen fuel cell - used in space ships; 2H2 + O2 2 H2O (oxidation of hydrogen to produce water, which can be drunk
2. Electrolytic cells
• Non-spontaneous flow of electrons
• Anions (-) get to the anode (+) where they are oxidized (they lose their electrons)
• Cations (+) go to the cathode (-) where they are reduced (they gain electrons)
Uses:
• Purifying metals
• Obtain active metals from their compounds – (example – obtain pure aluminum from its main ore, bauxite)
• Metal plating – depositing a thin layer of a non-reactive metal on the surface of another metal; protects from corrosion or just decorative (ex. Coat a spoon with silver layer)
Electrolysis – the process by which electricity in an electrolytic cell is used to bring about a non-spontaneous chemical change
Examples:
Electrolysis of water – to produce pure hydrogen and oxygen
Electrolysis of molten sodium chloride – to produce pure sodium and chlorine
Electrolysis of brine (concentrated solution of sodium chloride)– the main industrial way (cheaper) to produce pure chlorine, hydrogen gas and sodium hydroxide
Admin




Posts

: 75


Join date

: 2008-11-27


Age

: 28



OSCAR - IM NOT HERE TO POST ANYTHING FRUITFUL IN REGARDS TO CHEM BUT WE JUST WANT U TO KNOW THAT YOU ABSOLUTELY ROCK!!!




Posts

: 19


Join date

: 2008-12-03




---
Permissions in this forum:
You
cannot
reply to topics in this forum